Premium dog leash with leather handle.
The leash is coated with nanotechnology dirt- and water repellent material, so it will preserve its fresh white colour through time.
Keep your mind at ease. Rest assured you'll never lose your favourite four-legged friend. We combine style and functionality offering hand-made leather collars with the possibility to fit in an Apple Airtag.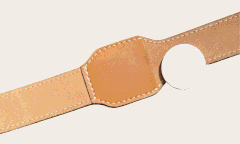 The AirTag fits like a glove.
The AirTag is the easiest way to keep your dog safe. Anyone who finds your dog can scan the AirTag and get your contact details. It works with iPhone and Android. Just slide the water resistant AirTag in the collar, that's it! The AirTag is secured in an anti-slip pocket, it cannot fall out when your dogs plays around.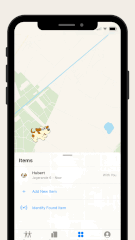 Track your best friend. In real-time.
Using the already familiar "Find My" App on your iOS device, you can track your dog at all times. The device battery only needs to be replaced once a year and the service is without subscription or additional cost. Inside our collar the AirTag is safe and sound.